Faith Lutheran Church
Faith Lutheran Church News
---
Worship & Education
Please join us as we celebrate our new worship space in addition to a projection screen and new baby grand piano.
Worship Schedule
Blood pressure screening is held following the 10:15 service the first Sunday of the month.
Saturdays: 5:00PM
Sundays: 10:15AM
SUNDAY SCHOOL: 9:00 - 10:00
Elementary classes meet in the lower level conference room.
Middle School meets in the youth lounge.
Lounge class is held in the lounge.
Joanne Hanners leads a Bible study in the blue room.
LENTEN WORSHIP OPPORTUNITIES

Join us for your journey in lent
Lent begins on Wednesday, February 18.
Ash Wednesday Worship Services will be held at 12:30 PM and 7:30 PM.
Midweek Lenten Worship: Wednesdays, 12:30 PM.
Holy Week
Palm sunday - worship at 10:15
Maundy Thursday - worship at 7:30
good friday - worship at 7:30
easter services - saturday at 5:00
sunday at 10:15
---
Renovation Celebration - April 19 at 10:15
The Renovation Celebration for our new sanctuary will take place on Sunday, April 19 during the 10:15 service. The service will include hymns, scriptures, and special music focused on the continuing mission of Faith Lutheran Church in the new surroundings. A special dedication of our grand piano will occur. A catered dinner will follow.
If you plan on attending the meal, please call the office at 237-4241.
---
B.R.E.A.D - Building Responsibility Equality and Dignity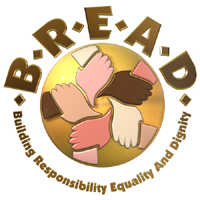 On February 8th, a Justice Ministry Network meeting was held to plan for the upcoming events in BREAD and also to increase involvement in the BREAD ministry at Faith. The following members agreed to become network members and assist with informing our membership about the accomplishments of BREAD and to increase involvement with the spring events planned by BREAD. The network members are: Rich Kuhn, Dave and Gretchen Risch, Elaine Moehring, Larry and Sue Hertzog and Garth Grate. The Justice Ministry Team members are Jodi Oiler-Martin, Herb and Bev Scholes, Carol Barber and Alice Appel. If you have any questions about the Justice Ministry, please feel free to contact one of these individuals.
For more information about BREAD's ministry, please read below.
[ Learn more ]
---
First English Meals
Faith Lutheran prepares and serves breakfast for people living in the central city on the fourth Sunday of each month at First English Church. Please contact Dave or Mary Garvin if you would like to help out.
Pictured below is Mary Garvin with other helpers at a First English block party.
[ Learn more ]
---
Rose of Concern Pins Awarded to Bev and Herb Scholes
Faith Lutheran Church is pleased to present the Rose of Concern pins to Bev and Herb Scholes who are most worthy recipients.
Herb has been an usher, greeter, counter, team leader of BREAD, and a volunteer with Betty Brewer's Angels. He has been an Outreach Board Member, past representative of the Outreach Board to Parish Council, and is a current Vice President of the Parish Council. Herb has been active in numerous outreach activities such as WUMC meals for children, Whitehall Night Out, and LOMO Summer Camp.
Bev has been active with Outreach Board activities such as Whitehall Night Out, WUMC meals, BREAD, and home communioun. She counts/reviews attendance sheets, cares for supplies in pews (pencils, envelopes, etc.), and sings in the choir. In addition, she is a quilter, helps with mailings for the church, and is a caretaker to mother.
Congratulations to Herb and Bev!. Faith is blessed with your service to our church and to our Faith community!
---
Sunday School Participates in Project Linus
Patients at Nationwide Children's Hospital will beenjoying the warmth and comfort of sixty new fleece blankets recently completed by elementary and high school Sunday School students, parents, and staff of Faith Lutheran. In the fall, Faith Lutheran Sunday School students decided to sponsor Project Linus, a non-profit organization which provides homemade blankets to children in need at local hospitals.
[ Learn more ]
---
Plan Your Vacation, Benefit Faith Lutheran
You can plan your next vacation getaway and benefit Faith Lutheran Church by booking your next trip through Faith and Friends.
---