Faith Lutheran Church
Faith Lutheran Church News
---
Worship & Education
Our Renovated Sanctuary
Worship Schedule
Blood pressure screening is held following the 10:15 service the first Sunday of the month.
Saturdays: 5:00PM
Sundays: 10:15AM
SUNDAY SCHOOL: 9:00 - 10:00
Sunday School will resume on Sunday, September 11, 2016 qt 9:00 AM. Youth classes will meet in the lower level and adult classes are held in the blue room on the main level.
---
A Thank You Reception for Pastor Eric
Please join us as we recognizes Pastor Eric's twenty years of service at Faith on Sunday, September 25 following the 10:15 service. Pastor began his service at Faith Lutheran as an intern in 1996, continued as an associate pastor service with Pastor Mark Nodo, and then assumed his current role as head pastor.
The reception will be held in the glass corridor. Notes of appreciation to Pastor Eric may be dropped of at the reception table or can be placed the mailboxes of Karen Brown or Alice Appel before the 25th. Hope to see you on the 25th.
---
Nehemiah Action 2016
The most recent Nehemiah Assembly held on Monday, May 9th, was well attended and well run. The program included exciting music presented by a 50 voice choir from Rhema Christian Center, inspiring words about the work of justice, and exciting reports about the good things that are happening in our city because of
Dr. David Schalk of Christ the King Roman Catholic Church reminded us of Pope Francis' words about the "throw-away culture," people who are forgotten or "written off." His words inspired the cheer: "Hire and Better Pay: Don't Throw Away."
Among the reports heard by the assembly was that of the ADAMH board. They reported the great work being done by two new Assertive Community Treatment (ACT) teams with people who are homeless, and shared that the Clubhouse International at Pathways is well on its way to being opened early this fall.
It was also heartening to hear AttorneyRon O'Brien offer his ongoing support.
The attached article gives more details on the work being done on helping people find employment opportunities. There already is work being done by Councilwomen, Elizabeth Brown to establish an ordinance in the city to make it easier for "returning citizens" to be hired.
We especially thank the 24 people from Faith Lutheran who were able to attend: Eileen Young, Sue Hertzog, Larry Hertzog, Dorrie Mayer, Susie Lowther, Gretchen Risch, David Risch, Angie Biller, Emma Sattler, David Sattler, Claire Sattler, Karen Brown, Ann Barrett, Dave Barrett, Mary Martin-Thomas, Jodie Martin-Oiler, Rich Kuhn, Freda Evans, Diane (Carol Barber's Friend), Carol Barber, Alice Appel, Alex McArthur, and Rev. Eric Moehring.
Special thanks to our Justice Ministry Team (Herb Scholes, Alice Appel, Jodie Martin-Oiler, and Carol Barber) and to members who worked at being part of the Justice Ministry Network by inviting others to the event (Dorrie Mayer, Claire Sattler, Angela Biller, Dave and Gretchen Risch.
[ Learn more ]
Betty Brewer's Angels
Hello everyone! Now that Thanksgiving Day if over, we have officially entered the holiday season!!!! But you knew that, right? Maybe you have a loved one residing in a long-term-care-facility and are agonizing trying to think what you can give them for the holidays. Last November I was honored to be part of the radio program "Journey Through Aging" where I give you some ideas on exactly how to give the best gift of all, the gift of you. Just click here http://journeythroughaging.org/wp-content/uploads/2014/12/JTA-12-13-seg-4.mp3 to listen. "Journey Through Aging" is a wonderful radio show in which the host, Joel Wrobbel covers a wide range of topics regarding aging. The show airs every Saturday morning at 8 a.m. on WRFD 880AM. I encourage you to go to their web site www.journeythroughaging.com to scroll through the list of topics they cover. All the shows are online so if you miss a show when it airs, it is easy to just click on the one that most interests you. You will be amazed at the variety of topics Joel covers. Last Saturday one of the topics Joel presented was "10 Signs of Caregiver Stress". I know many of you are caregivers so this might be helpful for you. And oh yes, Betty Brewer's Angels newest blog posting is ready for you to read by clicking here Betty Brewer's Angels


We have some exciting news on two new ways you can donate to Betty Brewer's Angels without opening your pocket books and a heartwarming story about how one of our volunteers changed the life of a resident she visits. Hope you enjoy! Peace, Cheryl
Cheryl L. Newman
President, Betty Brewer's Angels--
---
B.R.E.A.D.
JUSTICE MINISTRY UPDATE
February, 2016




Mental Health
Because of BREAD, the ADAMH Board has established 3 new Assertive Community Treatment (ACT) teams that are currently at work engaging the most vulnerable people with mental illness. They also allocated $200,000 for an accredited clubhouse in Franklin County! The plan is to have a grand opening for the clubhouse this summer and to have 200 active clubhouse members by the end of 2016!
Crime
The "Violence Must Stop" committee continues to work with the department of Public Safety to ensure forward progress establishing a community-police relations initiative proven to reduce gang violence. In November members of BREAD traveled to Akron with other key Franklin County officials including representatives of the judiciary, probation, prosecutor; law enforcement, public safety and social service agencies to observe the "Safe Neighborhoods" initiative modeled after Cincinnati's C.I.R.V. program. The Columbus Department of Public Safety anticipates a similar initiative beginning in March of 2016.
Jobs
While the overall unemployment rate in Columbus is down, poverty is increasing. Columbus is one of the most economically segregated cities with pockets of extreme wealth and extreme poverty. Many people are working at low-paying jobs that don't allow them to support their families. There aren't opportunities for people to progress from a job that pays minimum wage to one with better pay. Blue collar jobs have disappeared. People face transportation and childcare barriers. Too many people have their resume thrown away because they have a criminal background and still others can't pass a drug test. People who have never had a job struggle to show up on time, communicate well with their coworkers, and navigate the social aspects of their job. The programs available to help people find jobs are uncoordinated and while there are some effective programs, their reach is limited. There's a lack of accountability for programs to receive funding based on their outcomes.
Welcome Columbus
We found that there are many vulnerable groups in our county who need identification such as the undocumented, homeless, victims of domestic violence, the elderly with low-incomes, and others. We are working with 5 other organizations in a collaborative effort to bring a municipal ID program to Franklin County. This has been done in several communities across the country including New York City; Newark, New Jersey; San Francisco and Oakland, California; New Haven, Connecticut; and Johnson County, Iowa. Our goal is to have this ID benefit everyone in our community through having incentives and discounts attached to the card and allowing people to open bank accounts with it.
---
Letter from Bishop Eaton - July 8, 2016
Dear brothers and sisters in Christ,
Last night and through this week, there was more tragic news of violence and lives taken. This news has impacted the daily lives of many in this church and in the neighborhoods where we serve.

Please join us in prayer.

Praying and lamenting the ongoing violence in our world and across our country.

Praying and lamenting the loss of lives due to gun violence and racism.

Praying and lamenting for the needs of the whole human family.

Today, July 8, at 11:30 a.m. (CDT) the ELCA will be live streaming a service of prayer and lament from the offices of the churchwide organization over the loss of lives due to gun violence and racism. Watch live and join with us in prayer at ELCA.org/blacklivesmatter. A recording of the worship service will be available for those who are unable to view it live.

Please join us.

In the days ahead, we must consider how we might join together, and with ecumenical partners, to dismantle systems and structures that perpetuate hatred and violence in church and society.



But in this moment, our calling is to a ministry of presence. A ministry of "showing up" with each other and especially with the members of our congregations and the people in our communities.
God's peace,
The Rev. Elizabeth A. Eaton



Presiding Bishop
Evangelical Lutheran Church in America

---
ELCA ADVOCACY
My God vs. your God
By: John Johnson, Program Director, Domestic Policy
For there is no distinction between Jew and Greek; the same Lord is Lord of all and is generous to all who call on him. For, "Everyone who calls on the name of the Lord shall be saved." – Romans 10:12-13
Jerusalem, Jerusalem, the city that kills the prophets and stones those that are sent to it! How often have I desired to gather your children together as a hen gathers her brood under her wings, and you were not willing! – Luke 13:34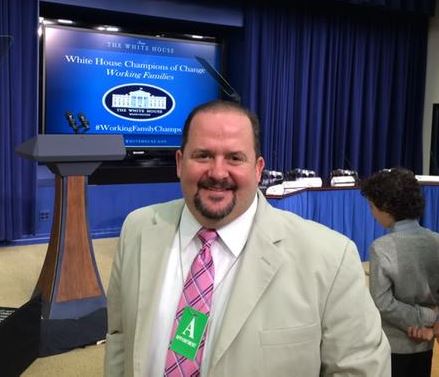 Last Sunday we heard Paul's letter to the Romans proclaiming that there is "no Jew and Greek … under one Lord of all" and the story of the temptation of Christ in the wilderness. And this Sunday Paul invites his readers to remember that "our citizenship is in heaven" while Luke's Gospel is the lament over Jerusalem. When I tune into the latest news about this year's elections, I can't help but think about the timing of this Lent's readings and wonder, is God trying to tell us something?
What if we as Christians didn't fall into the temptation to believe that my God is not your God? I wonder what would happen if we tried to change the conversation by rewriting the Scripture from Romans this way: For there is no distinction between Democrat and Republican; the same Lord is Lord of all and is generous to all who call on him. What if candidates began their stump speeches with recognition of the humanity and dignity of their opponent(s) and then began pitching their ideas for the future of our country?
Ok … I know. This isn't the way we do politics, and I don't want to be Pollyannaish, but when the rancor gets as bad as it is, I think we are called as a church to speak up. More importantly, we are called to model the notion that we are all the children of one God; that God loves us each individually and has given us each gifts and skills to be in the world. Could we simply agree on this and model it in the world in the way we each exist in the world and to everyone around us?
I had an opportunity to visit the ELCA Southeastern Synod recently for an advocacy event in Atlanta titled: "Your Voice Makes a Difference." What struck me about this meeting is the work they had done to form an advocacy network in their synod. Rather than concentrating on what divides us, they are seeking to give voice to issues they have found agreement on. In deciding their priority advocacy issues, the leaders asked, "Where do we agree?" This is what they came up with:
~ No one should go hungry.
~ No one should be a victim of slavery.
~ We incarcerate entirely too many people.
~ All children deserve equal access to education.
~ Our current immigration system is broken.
~ All people are of equal value.
I bet if we tried, we could add to that list in some simple and meaningful ways. But these six powerful concepts for that growing network brought unity that is turning into advocacy that will turn into meaningful change.
One of the reasons Lutherans make such an impact on public policy, especially policies that affect our communities, is that we have found a common call to God through Jesus Christ. Our agreement on that makes possible more than we could ever imagine in a divided, broken, rancor-filled world.
---
Share this Lent Reflection now on the ELCA Advocacy Blog!
Our ELCA Advocacy initiatives are made possible through support from ELCA World Hunger. As we enter the season of Lent, register yourself or your congregation for ELCA World Hunger's 40 Days of Giving! to ensure that we can continue to work for systemic change that truly supports our brothers and sisters facing poverty and hunger.
(To view this email in web format, click here.)


Support ELCA World Hunger | ELCA Advocacy


---
A Note From Bishop Dillahunt

June 14, 2016
A Note from Bishop Dillahunt
Brothers and Sisters in Christ,
Stronger and Better together, joining Jesus in the restoration of the world. This week I am visiting Charleston as they prepare to remember the AME shooting at Mother Emanuel and we pray this day for the victims of the mass shooting in Orlando. We pray for peace throughout the world. We remember Romans 8:38-39:
And I am convinced that nothing can ever separate us from God's love. Neither death nor life, neither angels nor demons,neither our fears for today nor our worries about tomorrow—not even the powers of hell can separate us from God's love. No power in the sky above or in the earth below—indeed, nothing in all creation will ever be able to separate us from the love of God that is revealed in Christ Jesus our Lord.
Please read Presiding Bishop Elizabeth Eaton's letter below and join our brothers and sisters around the world in praying for an end to the violence.
-Bishop Dillahunt
---


Dear Brothers and Sisters in Christ,

"So God created humankind in his image, in the image of God he created them." Genesis 1:27

We are killing ourselves. We believe that all people are created in God's image. All of humanity bears a family resemblance. Those murdered in Orlando were not abstract "others," they are us. But somehow, in the mind of a deeply disturbed gunman, the LGBTQ community was severed from our common humanity. This separation led to the death of 49 and the wounding of 54 of us.

We live in an increasingly divided and polarized society. Too often we sort ourselves into like-minded groups and sort others out. It is a short distance from division to demonization. Yesterday, we witnessed the tragic consequences of this.

There is another way. In Christ God has reconciled the world to God's self. Jesus lived among us sharing our humanity. Jesus died for us to restore our humanity. God invites us into this reconciling work. This must be our witness as the Evangelical Lutheran Church in America. The perpetrator of this hate crime did not come out of nowhere. He was shaped by our culture of division, which itself has been misshapen by the manipulation of our fears. That is not who we are. St. Paul wrote, "So if anyone is in Christ, there is a new creation; everything old has passed away; see, everything has become new. All this is from God, who reconciled us to himself through Christ, and has given us the ministry of reconciliation; that is, in Christ God was reconciling the world to himself, not counting their trespasses against them, and entrusting the message of reconciliation to us. So we are ambassadors for Christ" (II Corinthians 5:17-20).

Our work begins now. We need to examine ourselves, individually and as a church, to acknowledge the ways we have divided and have been divided. We must stand with people who have been "othered." We must speak peace and reconciliation into the cacophony of hatred and division. We must live the truth that all people are created in God's image.

This morning your churchwide staff came together to mourn and to pray. We prayed for those killed in Orlando and remembered the Charleston Nine killed only a year ago. We prayed for the family of the shooter, for our LGBTQ brothers and sisters and for our Muslim brothers and sisters who now face the threat of retaliation. And we prayed that the Prince of Peace will bring us to the day when we stop killing ourselves.

Your sister in Christ,

Elizabeth A. Eaton
Presiding Bishop
Evangelical Lutheran Church in America
©2016 Southern Ohio Synod. All rights reserved.
300 S. Second St. | Columbus, OH 43215
t (614) 464-3532 | f (614) 464-3422
Terms and Conditions, Returns/Cancellations, and Privacy Policy

---