Faith Lutheran Church
Faith Lutheran Church News
---
Worship & Education
Please join us as we celebrate our new worship space in addition to a projection screen and new baby grand piano.
Worship Schedule
Blood pressure screening is held following the 10:15 service the first Sunday of the month.
Saturdays: 5:00PM
Sundays: 10:15AM
SUNDAY SCHOOL: 9:00 - 10:00
Elementary classes meet in the lower level conference room.
Middle School meets in the youth lounge.
Lounge class is held in the lounge.
Joanne Hanners leads a Bible study in the blue room.
Annual Nehemiah Assembly
The Annual Nehemiah Action Assembly will be held on Monday, May 4, from 6:30 - 8:00 PM at the Ohio State Fairgrounds. A bus will leave from Faith Lutheran at 6:00 PM taking all of our faithful to the Ohio State Fairgrounds to gather with 4000 other people from across the city, so that together we can cry out for God's righteousness, and so that, as a result. our community can be built up as a place where more and more people are able to live responsibly with equality and dignity.
Our congregation is committed to working with other people of faith to help change unjust structures in our community. We have set the high goal of gathering 60 people to attend this year's annual Nehemiah Assembly.
When you receive a call from one of our BREAD NETWORK or TEAM members, please consider joining us on May 4th to show our support of BREAD and the social justice ministry.
---
B.R.E.A.D - Building Responsibility Equality and Dignity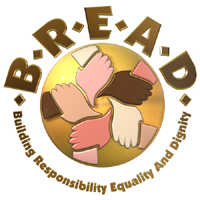 On February 8th, a Justice Ministry Network meeting was held to plan for the upcoming events in BREAD and also to increase involvement in the BREAD ministry at Faith. The following members agreed to become network members and assist with informing our membership about the accomplishments of BREAD and to increase involvement with the spring events planned by BREAD. The network members are: Rich Kuhn, Dave and Gretchen Risch, Elaine Moehring, Larry and Sue Hertzog and Garth Grate. The Justice Ministry Team members are Jodi Oiler-Martin, Herb and Bev Scholes, Carol Barber and Alice Appel. If you have any questions about the Justice Ministry, please feel free to contact one of these individuals.
For more information about BREAD's ministry, please read below.
[ Learn more ]
---
Faith Lutheran Recognizes Five Members
Faith Lutheran Congregation recognized five members who demonstrated outstanding leadership and support during the renovation of the sanctuary. They are from L to R: Larry Allen, Teri Allen, George Pymer, Jim Wille and Rich Kuhn.
Their responsibilities included planning the renovation, working with the contractor and architect, raising the funds, communicating progress during the lengthy renovation, and providing support to the entire congregation during the tear down and rebuilding. Thanks to these individuals for their time, expertise, and their devotion to Faith Lutheran.
---
Deenie Schmidt and Ted Coonfare are awarded the 2015 Rose of Concern Pins
The Rose of Concern pin is awarded annually to two individuals who contribute to the life of the congregation through their leadership and hard work. Deenie and Ted are both examples of individuals who put the needs of others before themselves and further the mission of the church through their church activities.
Listed below are the activites Deenie has been involved in:
Active member of Deborah Circle

Schedules meetings, Christmas parties, summer picnics at Kensington Place.

Mission Action Chair for Deborah Circle - shared projects with the congregation

Lead circle Bible studies

Faith Outreach Committee chair and member - scheduled and promoted outreach events

Started the church visitor follow-up program, recruited volunteers as needed

Helps organize and run Bingo games for residents of Lutheran Senior City/Lutheran Village

Helped with Sunday School education
Listed below are the activities Ted has been involved in:
Maintains the landscaping in the Memorial Garden

Trims shrubs and trees on church property

All around handy man and painter

Serves as assistant minister at Saturday service

Attends Bible studies

Serves communion for homebound members
Thanks so much for Deenie's and Ted's continued service to Faith Lutheran.
---
First English Meals
Faith Lutheran prepares and serves breakfast for people living in the central city on the fourth Sunday of each month at First English Church. Please contact Dave or Mary Garvin if you would like to help out.
Pictured below is Mary Garvin with other helpers at a First English block party.
---
Sunday School Participates in Project Linus
Patients at Nationwide Children's Hospital will beenjoying the warmth and comfort of sixty new fleece blankets recently completed by elementary and high school Sunday School students, parents, and staff of Faith Lutheran. In the fall, Faith Lutheran Sunday School students decided to sponsor Project Linus, a non-profit organization which provides homemade blankets to children in need at local hospitals.
[ Learn more ]
---
Plan Your Vacation, Benefit Faith Lutheran
You can plan your next vacation getaway and benefit Faith Lutheran Church by booking your next trip through Faith and Friends.
---