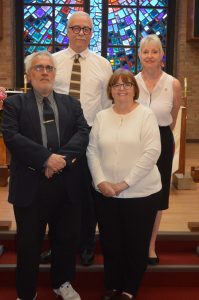 L to R, Row 1 – Jeff Cirelli, Carol Barber, award recipients.  Row 2 – Dean Chappelle and Dorrie Mayer, presenters.
Faith Lutheran has awarded the 2017 Rose of Concern Pins to Carol Barber and Jeff Cirelli.  The Rose of Concern Pins are given to Faith members who have shown exemplary service to the church.
Carol Barber, a long time member of Faith, is very active and involved with volunteer activities at Faith.  She is a member of the Outreach Board, secretary for this board and active in their activities, which includes participation in the July 4th parade, planning and participating in the Ice Cream Social, and Whitehall Night Out activities.  She has been the Outreach Board representative to the Parish Council and currently is the secretary of the Parish Council.  Carol is also on hand for the Collingwood clean-up project, as well as helping to serve lunches during school breaks to school children and their families at Whitehall United Methodist Church.  She has participated in the Veteran's events at The Commons on Livingston Ave.  She is involved in BREAD and has been responsible for recruiting network members and attending meetings.  Carol is an assisting minister, a lector, and a member of the bell choir.  Thanks to Carol for her extensive service at Faith.
Equally as deserving is Jeff Cirelli.  Jeff can be seen around Faith most days of the weeks.  He is a right hand man for our custodian, George Pymer, and assists with preparations for activities at the church, everything from election day set up to moving tables for fellowship activities.   Jeff assists with Sunday School and presently helps students in the Computer Lab.  He also is active in the LOMO Day Camp, Taco Tuesday and many other student activities.   Jeff is reliable and dependable and always has a joke or two to bring a smile to your face. Thanks to Jeff for his dedication to Faith Lutheran.