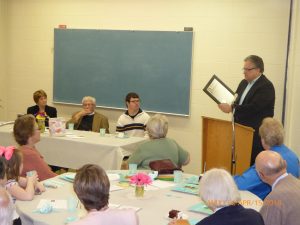 Faith Lutheran shared a fond "Farewell" and thank you to Pastor Eric, Elaine and Alec as Pastor Eric embarks on his retirement effective April 30.  The congregation provided a potluck dinner after Pastor Eric's last service on April 15.
After the potluck, three special presentations were given to Pastor Eric.   First, the City of Whitehall presented Pastor Eric with a commemorative letter thanking him for his years of service to  Whitehall.  Pastor Eric has tutored Whitehall students, has worked cooperatively with the city on numerous projects and has been proactive with the Whitehall Fourth of July Parade.  In addition, the Women of the Church presented Pastor Eric, Elaine, and Alec with Rose of Concern pins for each of their efforts in furthering the mission of Faith Lutheran.  The Youth of the Church also presented a picture book of special events that they have treasured over the years:  Bible Camp, First Communion instruction, Christmas programs and Sunday School activities.  They are so thankful for the leadership of Pastor Eric.
Finally the congregation presented a very special glass table plaque thanking Pastor for his years of service to the congregation and the Whitehall community.  Pastor and his family expressed their appreciation for all the gifts and well wishes.
Pastor Eric and his family will be moving to eastern Idaho in the next few weeks.  The congregation wishes him and his family well in this next chapter of their lives.  Thank you and God bless Pastor Eric, Elaine and Alec!